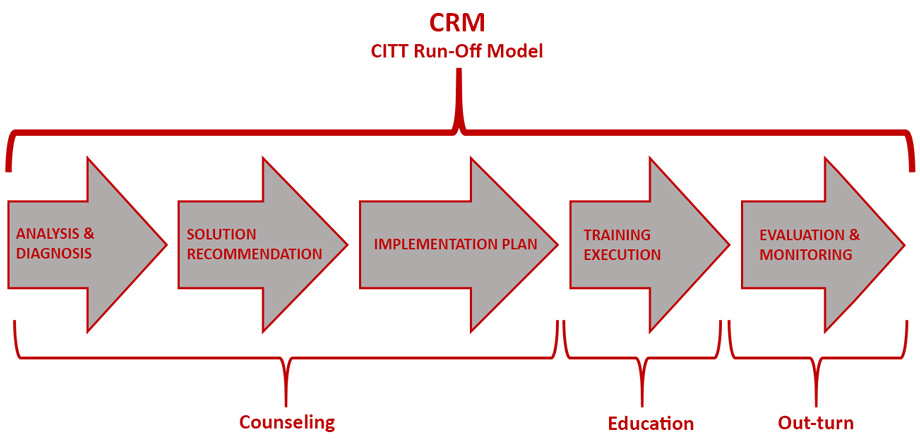 STEP I – ANALYSIS & DIAGNOSIS
Objective of the step I is to determine exact diagnosis. Diagnosis comes through asking series of adequate questions about current state of the business. Step I also includes a detailed look at a financial condition of business. Focus is also on analyzing following facts and data: number of clients, client return, client satisfaction, meeting set goals, and competitive advantage. It is done explicitly with the management agreement, regardless of being strategically bound and/or operational.
STEP II – SOLUTION RECOMMENDATION
Objective of the step II is to use diagnosis from step I in order to suggest adequate solutions, examine them, and improve them. Solutions are directly focused on weak points defined by the diagnosis, and can pertain to: organizational structure and compensation plan, upgrade of work processes, improvement of strategic and operational plans, systematization, sales strategies and new business opportunities.
STEP III - IMPLEMENTATION PLAN
Objective of the step III is to define a plan for solution and implementation. This step involves defined modes of counseling and/or trainings in order to gain on extra value and solve problem causes.
STEP IV - TRAINING EXECUTION
Objective of the step IV is to execute trainings. Trainings are specifically tailored for the needs of the clients or thematically defined. Trainings can be in-house – organized solely for one client, or open-house – for various clients coming from different industries and set on certain dates at a certain location.
STEP V - EVALUATION & MONITORING
Step V is evaluation of counseling and training, as well as monitoring changes and implementation of skills and knowledge. Evaluation is done immediately after concluding counseling and training, where clients through anonymous evaluation and thorough our customized final report can get a picture of the initial results. Soon after, evaluation monitoring follows. Monitoring aims at measuring change in results that came about through all the previous steps in order to encompass and establish run-off model.